Welcome to UsedJapaneseTractors.jp
Welcome to UsedJapaneseTractors.jp

UsedJapaneseTractors.jp is a full service Japanese used agricultural tractor export company serving the global market of the 21st century. With our reasonable prices and vast resources, we have streamlined our operation in a successful effort to provide you, the valued customer, with what we and many of our customers believe to be the best service around.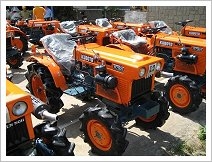 Company Profile:
Exporting experience reaching back over a decade, in providing low-cost quality used agricultural tractors and machinery to companies around the world. During our many years we have developed a large network of dealers and contacts throughout Japan, and as a result have been very successful in our attempts to bring you, the customer, the best possible service. We will put that knowledge to work for you. Leave tractors to us.
Location:
Our company is based on the southern island of Japan, in the large industrial port city of Kitakyushu (see the Japan map on the left). With the second largest vehicle market in Japan just nearby, and major international shipping lanes mere minutes away, it's the ideal location for exporting to all corners of the globe.
Message to our Customers:
We want you to think of us as an extension of your company. We believe in the old saying that the customer should always come first. And by working together with you to provide a good source of inexpensive reliable used tractors, you can gain that extra edge over any competitors in your local market.
About this Website:
We hope that our website explains to you a little about Kanmon International and our style of business, and about the unlimited possibilities offered in trading quality used Japanese tractors. Please feel free to contact us with any more specific queries using the Inquiry Form, or look for answers to common questions in our Frequently Asked Questions section. We're looking forward to hearing from you.
Kanmon International | Create Your Badge